I"m always on the search for the perfect dining set.
We used to have a rather large dining set that we bought from my uncle. It was a two-pedestal table, a china cabinet, a buffet, another little chest of drawers, and six shield back dining chairs that I recovered multiple times.
It was a way too much furniture for our tiny house, but we crammed it all in there anyway. We've since gotten rid of the all the furniture, but kept the chairs, which now live in various places around our house.
Next, we got a beee-uuuu-tiful table from Crate and Barrel. Oh, the loveliness. The beautiful finish. The shininess. The lovely round lines. The ridiculously expensive price tag.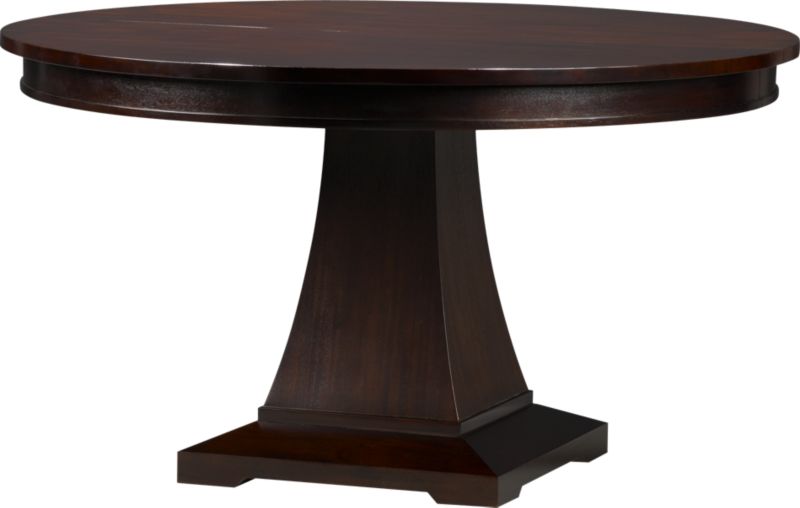 Except we have three kids under five, two of whom like to stab their forks into the table and conduct monster truck rallies on the table. So this tablecloth took up permanent residence on the table to protect the finish. Nothing says hip young couple like elasticized oilcloth. Excuse me while I go polish the Buick.
So, I gave up. That table now looks like this:
Its out in the garage, wrapped in a blanket. The base is hidden in my coat closet, and no, I will not show you that horror.
I found a reasonably priced (ha! Nothing is reasonably priced up here!) table on Craigslist. Its a bit dinged up, but hey, I don't care if it gets more dinged up. Plus, I also found these on Craigslist:
Its not the best picture, but the fabric on the seat covers was a sexy 80s peach/turquoise stripe combo. As much as we like to rock the 80s around here, I decided to recover them.
Using upholstered chairs with a four and two year old? Craziness, you say? Bring it on. (The 2 yr old has already brought it on multiple times; his chair has a number of mystery stains on it.) I figure upholstery fabric is cheap enough I can change it out once or twice a year. Not that I am super excited about upholstered chairs, but I love the bamboo design on the back of the chairs. I painted them white and put a new trellis fabric on the seats.
So here is what we are using now:
After getting both of these items off craigslist in the last two months, another dining set with prettier bamboo chairs has come onto craigslist....and so, tomorrow morning I'm off to check them out. So I may have a fourth table/chairs this year.