Remember a few days ago I posted about wanting a
room of my own
and having a place to look at all my pretty fabrics?
This morning
Little Green Notebook
featured Melanie of
Plum Cushion
's
house tour
. I've been reading Melanie's blog for a while now, but somehow I've never seen pictures of her workroom. Melanie makes high-end pillows that I've posted about
before
, so her
workroom
is full of gorgeous fabrics. (LGN's pictures of the workroom seem to be an updated version of the original Plum Cushion post--that cool painting isn't there in the original version. The entire house tour is beautiful and worth checking out.)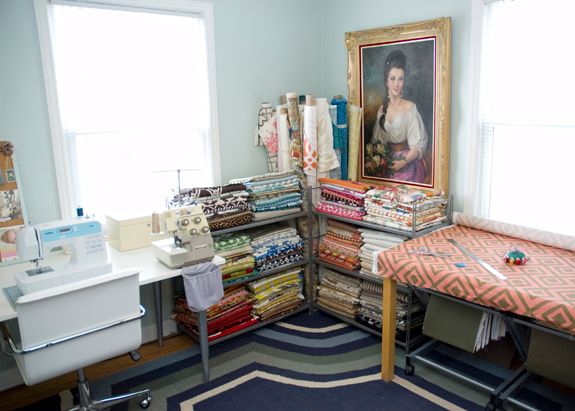 I am coveting this room---imagine having all those Trina Turk, Schumacher, and Kelly Wearstler fabrics in your house, just waiting to be played with.
I can barely sew. I have never sewn anything but a
paper towel so far
. I have no idea why I am so obsessed with expensive fabrics.