Somehow I missed
Serena and Lily
when I was bedspread shopping. Lets add
this one
to the list, shall we?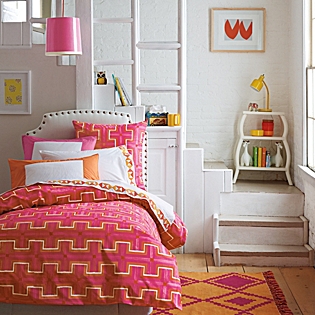 ******************
I am also thinking about what sort of art I could hang over the bed in Princess's room. I saw this tassel garland on
6th St Design School
today, and oh! Isn't that pretty! Hmmm.....
******************
I had this feeling when I signed all my kids up for school that I would have ALL THIS TIME to do stuff. I have an extra five hours in the day, right?
No. I don't. I am still doing all the same stuff I was doing before, except its quieter and I get stuff done in less time. But on the whole, I do not have a ton of extra free time.
However, now that I don't have to arrange for childcare, I do have time to exercise. For years I have walked on the treadmill every morning at 6:30 before taking everyone to school. I still do this, but now after I drop everyone off, I go to a Pure Barre class. I am in no way being recompensed by Pure Barre (please feel free to recompense me!), but I am really enjoying this class.
I have never ever been one to enjoy organized exercising. I do not like to go to the gym. I am incredibly uncoordinated and my inability to follow basic dance moves has kept me out of any aerobic or Zumba type class (or any other organized sport) for years. In fact, I still fumble the moves in the Pure Barre class, but for the most part, they are simple and straightforward and I can follow them.
Its not an aerobic class, but I leave hot and sweaty, feeling like I've just gotten an intense workout. I don't feel like I am straining my neck working out. It is very pilates-based and tones your core. I did not take pictures or measurements before starting, which I regret, because I can already see a difference in my stomach after a month of going 3 times a week. Now in week five I can do exercises I couldn't do the first week.
The cons: it is not cheap. It is also full of very fit, athletic, skinny women, which is kind of depressing if
you
are not fit, skinny and athletic. There are many yoga moves and I look at these women with their long, lean lines in yoga poses, and I feel...not long and lean, that's for sure. Regardless, my mirrors at home tell me I am getting smaller, so I will keep going.
**********
I was sitting at the doctor's office the other day reading a magazine that had a number of articles on plastic surgery. I wish I had at least taken down the name of the magazine, it seemed like a local-to-LA kind of magazine. In any event, one of the articles made the humorous point that "teeth are the gateway drug to plastic surgery." I find this fascinating.
I was born without two of my adult front teeth, so I have already had extensive cosmetic dentistry performed. In my teens, implants were just starting to become popular, and instead I had maryland bridges installed. These fake teeth had a projected life span of 15 years. They've been in for 23 years now.
Although my fake teeth were the appropriate size for my mouth when they were installed, your gums recede as you get older, and now my fake teeth are too small. Its not
terribly
noticeable, but I would prefer to have teeth that fit. I've looked into getting them replaced, but since its not covered by insurance it won't be anytime soon unless one breaks (the horror).
I feel I should also admit that I want lasik surgery. I would be way hotter without my glasses, yo. And so the slippery slope begins, right? First the teeth, then the eyes, and we'll work our way down from there, just like the article said.
I have always thought that I would never get plastic surgery done. For one, it seems like the sort of expensive thing movie stars do, and I am not a rich movie star. I plan to grow old gracefully and appreciate all the memories my wrinkles represent blah blah blah holy crap I HAVE WRINKLES NOW perhaps its not such a bad idea, hmm.
For some reason, although in New Jersey I would never have dreamt of seriously getting plastic surgery, here it seems....possible. Sure! Why not! Everyone here does it! I don't think I'd ever touch my face, but the thought of lipo-ing my lower half beckons.
To recap, before you flame me and tell me how vain I am, I'm just saying that in my unwrinkled youth and living in an area where people don't get plastic surgery frequently I would not have gotten plastic surgery, but now here where its common and now I'm old it seems like "probably not but never say never."
Would you ever get plastic surgery if you had the means?