The creamsicle dresser actually came out quite nice, bubbly paint notwithstanding.
I am glad I didn't go with the darker orange, this is a pretty intense orange as it is.
I've ordered the rug for her room, I have all the curtains, I'm looking for art, and I need to figure out how what color to dye the rocker. And oh yeah, move to the next place. Progress!
Opinion poll: would you put pretty knobs or pulls on a Malm dresser, or is it just too modern to do that? I have seen plenty of mod, plain drawer pulls on the Malm, but not too many pretty pulls like
this
: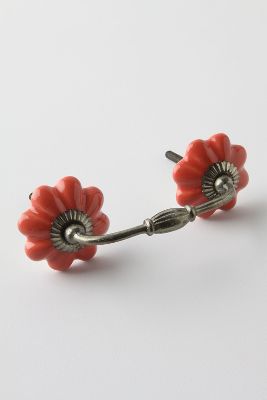 (Ten of these pulls, btw, would cost more than the dresser itself.)
I see on
Apartment Therapy
someone put some fancy pulls on the long Malm dresser. Hmm.